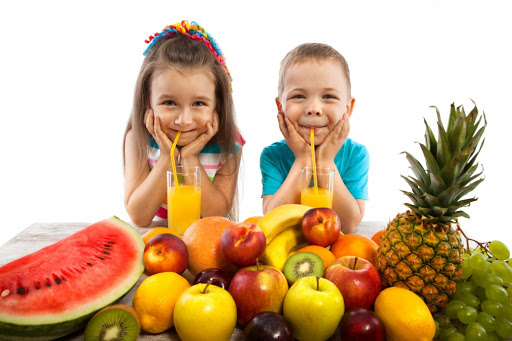 15 fun Ways To Get Kids To Eat Their Vegetables (And Other Tips And Tricks To Eating Healthy With A Picky Eater)
We know that fruits and veggies are good for kids, but have you ever tried to get a kid to eat them? Talk about a completely different story! What if it was as easy to get kids to eat their carrots as it was chips, a cookie, or a popsicle? What if kids could eat their favorite food, and have it be healthy for them? I'm optimistic that by applying a few of these tried and true tips, your kiddo will be on the healthy train in no time (and they might even get you eating a few more servings of veggies too!), making the kitchen a place of happiness, health, and peace of mind, knowing your kids are fueling their brains, bodies and activities with the healthiest fuel on the planet. 
 Let's dive into 15 tips and tricks to get kids engaged in the eating process, excited about different foods, and make healthy eating a delightful tradition for kids and parents all around. 
Rename foods to sound delicious. Call fruit "dessert", call water "river juice", call a plain fruit smoothie a "tropical delight". It sounds silly, but these simple life hacks can make a huge difference in a kids perception of a certain food. 

Make it fun! Keep the atmosphere around food light, happy and exciting. When at all possible, try to not give negative behaviors any attention. Also with an unfamiliar food, they might not like it the first time, that's okay, keep trying! 

Fruit smoothies with hidden veggies. I'm not talking about cabbage or cauliflower here. I'm talking about greens! Throwing greens into a fruit smoothie is a great way to eat up those greens without having to put a salad in front of your kids. Smoothies are a great way to mask the flavor, and enjoy every sip. PRO tip: use mild flavored greens for this, like spinach. Some greens out there are much more bitter tasting to kids and it might not be so hidden if the flavor is too strong, so choosing a mild green will go a long way to getting those servings of veggies in. 1 cup of spinach = 1 serving of vegetables.  

"Get-your-greens-in" pesto.  Made with spinach, kale, arugula or any other kind of green; adding in greens to your pesto is a great way to add servings of veggies for kids (and stretch the sauce out too!) Use this pesto the way you may traditionally use it, on pasta, or as a pizza sauce! 

Disguise veggies in other "comfort foods". Mac and cheese with veggies in it? It can be done! Lots of creamy sauces can be made super healthy by adding steamed and pureed cauliflower or zucchini. Try steaming some cauliflower florets and blending them into a "mash" then add them into the cheesy sauce. Voila! You can also do this for alfredo, spaghetti sauces etc. Cauliflower is a somewhat neutral flavored food that can easily be added to tons of dishes! 

Cut food into shapes. Whether its heart shaped watermelon, or Mickey Mouse shaped blueberry pancakes. Kids LOVE shapes! Get creative with cookie-cutters to cut up some fun shaped fruits or veggies for snacks. 

Kale chips. Forget the veggie straws as a crunchy snack.  (They're really just cleverly marketed potato chips). Instead throw some kale pieces in olive oil, salt, with maybe a little garlic powder and some nutritional yeast (optional) and bake in the oven on 350 degrees for 10-15 minutes until crispy. These "chips" turn out healthy and delicious, making it easy to get in those servings of veggies. It's hard to keep track of how quickly these disappear. I've eaten a whole tray in one sitting, before I even knew what happened! 

Frozen popsicles made from fresh blended fruits. Start by making a smoothie however you like it, with fresh berries, banana, maybe some mango or strawberries, and some sort of plant-based milk, then just pour into the popsicle molds and wait until the next day for them to set in the freezer. These are great things to make ahead of time for a weekend of fun in the sun. 

Spinach quesadillas. No matter what you're making, throwing in some veggies that are "muted" in flavor is a great way to help your kiddo understand that veggies are here to stay. When you're having quesadillas for dinner, they have spinach in them. When it's spaghetti night, there are chopped zucchini and red bell peppers in the sauce. Not only does this normalize vegetables, it also begins to change kids' palates when they are introduced to these servings of fruits or vegetables regularly. 

Zucchini bread. There is nothing more fun and delicious to bake than some fresh warm zucchini bread. Similar to banana bread, but with servings of veggies in each bite! Zucchini has a mild flavor that can easily be disguised in this amazing dessert. 

Fresh juices. Store bought juices are already processed and have lost so many of their vitamins, minerals, living enzymes and healthy impact that the original fruit or vegetable may have once had. Try juicing your own fresh fruits and vegetables to have on hand. These can be bottled and frozen for later or kept in the fridge for a few days to substitute for those sugary drinks kids always reach for! There are even reusable juice pouches that you can purchase to put your own fresh juices or smoothies in! 

Veggie snacks. Bite size nibbles are always a favorite with kids. Have a plate or bowl of cut up veggies and make them super available by having them already prepared in the fridge for a quick grab. Carrots and hummus, cut up watermelon, or already de-stemmed grapes are great ideas for grab and go fuel for after school snacks and quick turnarounds. 

Fresh lemonade. Lemons are a powerful fruit for a healthy body! Use 8 cups of water with 2 fresh squeezed lemons and a hint of natural sugar like honey, maple syrup, or coconut sugar to beat the heat and get in all the amazing benefits of this amazing fruit! Keep on hand for those hot days of summer! 

Fun straws, spoons or bowls. Have certain dishes that kids exclusively get to use certain items with. Have some fun fruit shaped straws that come exclusively with a smoothie. Or a special bowl that they only get to use with their fruit "dessert". Kids will feel like they are getting something rare and exclusive, and adds tons of excitement to an otherwise normal meal. 

Have a "no thank you" helping. Growing up, this was a consistent tactic my parents used (and successfully I might add). If we didn't want to eat a certain kind of food or meal, we had to eat a tiny portion of it as our "no thank you" helping. This got us as kids to at least try different foods, and over time, develop our taste buds to like that food. 
Last but certainly not least, give it time, and don't lose heart. Taste buds take about three weeks to adjust to a new taste or way of eating but the good news is that they DO change. Give kids the delicious flavors of real fruit for a few weeks, and when they go back to having processed sugar it sometimes tastes too sweet. It's the same with salty foods. When your kiddo is eating all the healthy snacks you've been replacing chips with, that first taste of a chip is going to be insanely salty. Once the taste buds change, the food preferences soon follow suit, your kid will be asking for fruits and vegetables in no time! 
Comments
comments
https://blossomfamilychiropractic.com/wp-content/uploads/2020/05/fruity-kids.jpg
341
512
Savy Irby
https://blossomfamilychiropractic.com/wp-content/uploads/2022/03/blossom-logo-grey-l-1030x216-300x63.png
Savy Irby
2020-05-18 02:52:46
2022-07-19 17:17:28
15 fun Ways To Get Kids To Eat Their Vegetables (And Other Tips And Tricks To Eating Healthy With A Picky Eater)