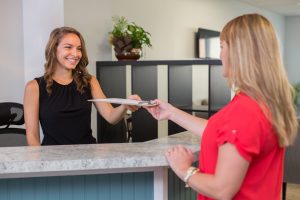 For many people, the first visit to a new health care provider can feel stressful. Please allow us to give you an outline of what to expect:
1) Welcome!
From the moment you walk through the door, you will be greeted with a smile and welcomed into our family office!
2) Paperwork/ Insurance Verification
Please bring your paperwork, ID, and insurance card. Our office will be more than happy to verify your insurance benefits/ coverage.
3) Educational Office Tour
You will be given an educational tour of the office so that you can better understand what to expect and how we may be able to help you.
4) Doctor Consultation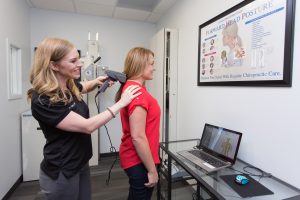 For the first 15 minutes of your visit, we will have a conversation with you to better understand your health history, so that we can help you achieve your goals. Some of the questions we ask will take you back several years, as this is when many structural problems begin.
5) Neurological Evaluation
We will perform a full nervous system evaluation using NASA published and SPACE certified technology. This scan will show us areas of pressure being placed on the nervous system and varying degrees of severity.
6) Posture Analysis
Posture directly affects the physiology of the body. Our software will analyze your posture from the front and side to show the biomechanics of your spine.
7) X-rays (if needed)
We will take all necessary chiropractic postural x-rays. This will determine the structure and condition of your spine.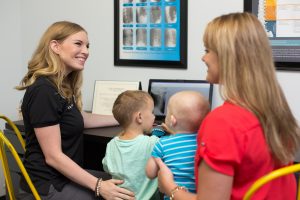 1) Educational Report
On this visit, we will provide a detailed report of findings from your initial exam. This report includes an analysis of your chiropractic x-rays, scans, and tests as well as your customized corrective care plan and payment options.
2) Adjustment
The chiropractic adjustment realigns the spine into its proper position so that your body can function optimally.  Healing is a process that takes time. Each adjustment in our office will build upon the last so that we can correct any underlying structural issues. Our goal is for you to be happy, healthy, and function properly!
I've been going to Blossom for going on 5 months. At the time of my first visit I was around 4 months pregnant and was going to make sure I was properly aligned and ready for delivery. To my surprise, my new patient visit revealed how unaligned I was! I started going 2x/wk and I have to say I am completely thankful I did! Pregnancy can do something crazy things to a woman's body! The staff is the most kind, gentle and welcoming group of women! I feel so comfortable every time I'm there! Dr. Davy & Dr. Stephanie are knowledgeable and get right to the root issue so you leave feeling aligned and well taken care of.
I can't say enough wonderful things about Blossom! My family will be part of the Blossom family for YEARS to come! 💗
I love the energy and the passion they have! I come here for my prenatal care and I have seen so much improvement! Dr Savy, Stephanie and Tara are very welcoming and the office is super cute too!
I've been adjusted by 8 or 10 chiropractors now in my life, over the last 18 years of my life. Dr. Ford is the only Chiropractor I've ever been to that is consistently able to adjust my neck and produce the wonderful bone cracking sensation and sense of relief we all need. I would highly recommend Blossom Family Chiropractic to anyone!