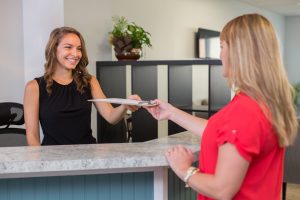 For many people, the first visit to a new health care provider can feel stressful. Please allow us to give you an outline of what to expect:
1) Welcome!
From the moment you walk through the door, you will be greeted with a smile and welcomed into our family office!
2) Paperwork/ Insurance Verification
Please bring your paperwork, ID, and insurance card. Our office will be more than happy to verify your insurance benefits/ coverage.
3) Educational Office Tour
You will be given an educational tour of the office so that you can better understand what to expect and how we may be able to help you.
4) Doctor Consultation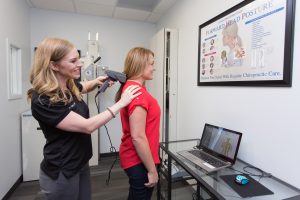 For the first 15 minutes of your visit, we will have a conversation with you to better understand your health history, so that we can help you achieve your goals. Some of the questions we ask will take you back several years, as this is when many structural problems begin.
5) Neurological Evaluation
We will perform a full nervous system evaluation using NASA published and SPACE certified technology. This scan will show us areas of pressure being placed on the nervous system and varying degrees of severity.
6) Posture Analysis
Posture directly affects the physiology of the body. Our software will analyze your posture from the front and side to show the biomechanics of your spine.
7) X-rays (if needed)
We will take all necessary chiropractic postural x-rays. This will determine the structure and condition of your spine.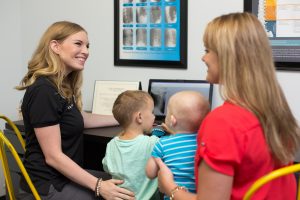 1) Educational Report
On this visit, we will provide a detailed report of findings from your initial exam. This report includes an analysis of your chiropractic x-rays, scans, and tests as well as your customized corrective care plan and payment options.
2) Adjustment
The chiropractic adjustment realigns the spine into its proper position so that your body can function optimally.  Healing is a process that takes time. Each adjustment in our office will build upon the last so that we can correct any underlying structural issues. Our goal is for you to be happy, healthy, and function properly!
Blossom Family Chiropractic has helped tremendously with my son's ADD and sensory issues. He is better able to focus, more coordinated, and trying new food textures and tastes he never would have before. I am so thankful for the improvements he has made since coming here. Everyone in the office if very friendly and they have a play area for kids with a variety of toys. Dr. Savy is one of the kindest chiropractors I have met and she is always gentle with my son and patient. I am a nurse midwife and I have referred my clients to her and they have all been highly satisfied. Thank you Blossom!
My 3 year old son is diagnosed with autism spectrum disorder. We heard about Blossom Chiropractic from our early steps therapist when he was 2 years old. Prior to him starting at Blossom he was completely unable to regulate and would scream and cry during his whole therapy session. After the first month he was like a completely different kid. He started grabbing his therapist's hand and towing her into his bedroom to play. He is no longer a runner, he now walks with me in public and holds my hand. We have had a few words. His sleep patterns have become more regular. Overall his whole demeanor is much more pleasant, and meltdowns are less frequent. Dr. Savy is excellent with kids and my son loves to get adjusted. The office is very soothing and also kid friendly too. I would highly recommend Blossom Chiropractic to any families who have a child on the spectrum.
I love the care and compassion that I receive at Blossom Chiropractic! From the moment I walk in the door, where I am greeted warmly, until I leave the office feeling great after my expert adjustment, I feel the professional staff truly cares about me and my family. I highly recommend Dr. Savvy! It has been a pleasure to be under care in this practice.