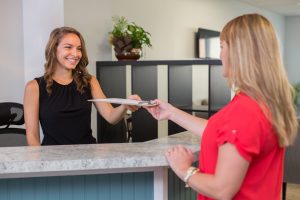 For many people, the first visit to a new health care provider can feel stressful. Please allow us to give you an outline of what to expect:
1) Welcome!
From the moment you walk through the door, you will be greeted with a smile and welcomed into our family office!
2) Paperwork/ Insurance Verification
Please bring your paperwork, ID, and insurance card. Our office will be more than happy to verify your insurance benefits/ coverage.
3) Educational Office Tour
You will be given an educational tour of the office so that you can better understand what to expect and how we may be able to help you.
4) Doctor Consultation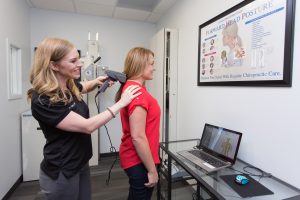 For the first 15 minutes of your visit, we will have a conversation with you to better understand your health history, so that we can help you achieve your goals. Some of the questions we ask will take you back several years, as this is when many structural problems begin.
5) Neurological Evaluation
We will perform a full nervous system evaluation using NASA published and SPACE certified technology. This scan will show us areas of pressure being placed on the nervous system and varying degrees of severity.
6) Posture Analysis
Posture directly affects the physiology of the body. Our software will analyze your posture from the front and side to show the biomechanics of your spine.
7) X-rays (if needed)
We will take all necessary chiropractic postural x-rays. This will determine the structure and condition of your spine.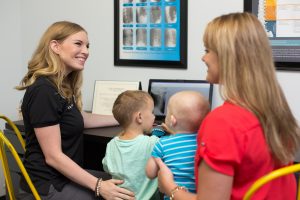 1) Educational Report
On this visit, we will provide a detailed report of findings from your initial exam. This report includes an analysis of your chiropractic x-rays, scans, and tests as well as your customized corrective care plan and payment options.
2) Adjustment
The chiropractic adjustment realigns the spine into its proper position so that your body can function optimally.  Healing is a process that takes time. Each adjustment in our office will build upon the last so that we can correct any underlying structural issues. Our goal is for you to be happy, healthy, and function properly!
Blossom's is amazing. Truly the highlight of my day. Whenever you have a question or a concern, they are very easy to talk to and give the best advice and solution. I suffer from TMJ and I have definitely seen a difference in my jaw pain. After my QUICK adjustment, I feel a huge weight lifted off my shoulders!
LOVE Dr. Savy and Tara - I've taken my entire family (husband and 6mos old twins). I really feel like Dr. Savy truly believes in Chiropractic and Holistic health and makes every visit quick and easy! The results my family has seen from our visits has been outstanding. Definitely worth the visit!!
I feel as if I can't even begin to fully express how grateful I am for Dr. Savvy and her team but I will do my best. I was in tears daily from the amount of pain I was in at 30 weeks pregnant. I could not perform simple, everyday tasks like emptying the dishwasher or picking my son up from out of his crib and this was so emotionally disheartening because I was physically debilitated and wanted so badly to just feel "normal" and not be in pain constantly. I was absolutely desperate for help. I found her practice through Facebook, read the reviews which were all incredibly positive, and booked within a week or two— as soon as I began seeing her I started seeing immediate positive results and amazing relief. I was able to start turning in bed and could lie on my back again— things that I used to take for granted but that I hadnt been able to do because of the amount of pain I was in! I can sit on the floor now and play games with my son, I can lift things, perform household chores and do light exercise again! I've been seeing her for a month now and she has made the hugest difference in my everyday life. I can be the mommy and wife I want to be, and not be in pain because of it. I can move normally and do things around the house with so much more ease and absolutely no discomfort at all. She is really incredible at what she does, has so much knowledge and expertise in her field, treats all of her patients with the utmost respect and care, and strives to provide all with the best service possible. The communication and the atmosphere in the office are great, and Tara is wonderful and understanding about appointments, etc. The office space is really nice and they've even made sure to have an adorable kid's corner that my son just loves, as well as a private room for nursing and/or changing baby's diaper, etc. Honestly can't say enough about how awesome Blossom Chiropractic is, and also can't stop recommending Dr. Savy now to everyone I know!