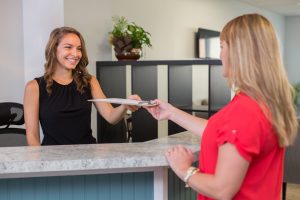 For many people, the first visit to a new health care provider can feel stressful. Please allow us to give you an outline of what to expect:
1) Welcome!
From the moment you walk through the door, you will be greeted with a smile and welcomed into our family office!
2) Paperwork/ Insurance Verification
Please bring your paperwork, ID, and insurance card. Our office will be more than happy to verify your insurance benefits/ coverage.
3) Educational Office Tour
You will be given an educational tour of the office so that you can better understand what to expect and how we may be able to help you.
4) Doctor Consultation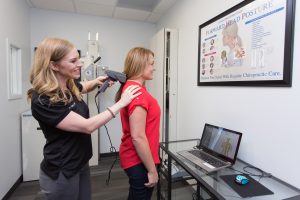 For the first 15 minutes of your visit, we will have a conversation with you to better understand your health history, so that we can help you achieve your goals. Some of the questions we ask will take you back several years, as this is when many structural problems begin.
5) Neurological Evaluation
We will perform a full nervous system evaluation using NASA published and SPACE certified technology. This scan will show us areas of pressure being placed on the nervous system and varying degrees of severity.
6) Posture Analysis
Posture directly affects the physiology of the body. Our software will analyze your posture from the front and side to show the biomechanics of your spine.
7) X-rays (if needed)
We will take all necessary chiropractic postural x-rays. This will determine the structure and condition of your spine.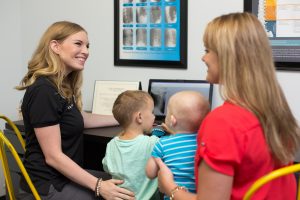 1) Educational Report
On this visit, we will provide a detailed report of findings from your initial exam. This report includes an analysis of your chiropractic x-rays, scans, and tests as well as your customized corrective care plan and payment options.
2) Adjustment
The chiropractic adjustment realigns the spine into its proper position so that your body can function optimally.  Healing is a process that takes time. Each adjustment in our office will build upon the last so that we can correct any underlying structural issues. Our goal is for you to be happy, healthy, and function properly!
I absolutely LOVE Blossom Family for chiropractic care. Dr. Savvy is so friendly and knowledgeable. I started chiropractic care during the second month of my pregnancy and I truly feel it had a huge impact in how well my labor and delivery went. 5 stars - I HIGHLY recommend Blossom Family Chiropractic for moms, babies and the whole family!
I absolutely LOVE Dr. Savy and Tara! She is an amazing chiropractor. She really focuses on what is best for your body and helps you focus on how to keep your adjustments longer. She tells you how many times you should come in a week and then when she sees progress, she decreases the amount of times per week. She is very reasonable with pricing. They are always so flexible when it comes to making or changing appointments. The best part is they have events each month to bring awareness or specials to new and existing clients. Mother's day they had a free 15 minute massage. Thank you Dr. Savy and Tara!
I came to Dr. Savy after having my daughter. She had reflux (which was actually caused by an undiagnosed/unrevised tongue tie) and after researching I read that many moms had success with chiropractic care. After starting care my daughter got much better. She slept better, she seemed less fussy and was overall a much happier baby. My whole family, my son, my husband and myself, all go for chiropractic care now. My son (2 yo) actually runs in and lays down so that he can get adjusted. I've never been able to lay flat on my back without lots of discomfort and I am able to now and I sleep much better. I am now a huge advocate for chiropractic care and will recommend it to anyone who will listen. Dr. Savy is the best!